---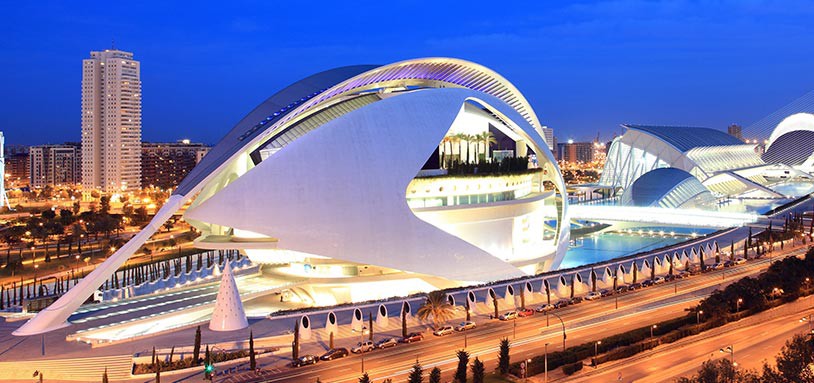 Uncategorized
Nestled between Barcelona and Andalusia along the southeastern coast of Spain, Valencia meets the Mediterranean sea as a beautiful port city steeped in layers of rich culture. Located here is the opera house Palau de les Arts Reina Sofia created in 2005, one of the world's most stunning performing art centers designed by renowned architect Santiago Calatrava and home to the Valencian Community Orchestra. Recognized as an international landmark, the Palau de les Arts is where the most distinguished opera, musical and theater performances come to life.
The Opera House
The Palau de les Arts stands as the world's tallest opera house at 75 meters in a stunning 55,000 square-meter white silhouette encompassing four halls: the Sala Principal (Main Hall), Aula Magistral (Master Room), Auditorium and Martín y Soler Theatre. The Sala Principal seats 1,500 visitors mainly for opera and other performing arts, boasting four levels of seating and the world's third largest orchestra pit. Spiralling staircases and panoramic lifts can be found towards the sides of the venue, offering various access paths to walkways and Mediterranean gardens.
From afar, the Palau appears to be floating mid-air due to the foundational support that sustains the futuristic feather-shaped silhouette. The white glass exterior surrounded by a serene open water pool creates a striking presence when one approaches the Palau, foreshadowing the grand musicality waiting within.
The Opera Experience
Music journalists have acclaimed the Palau to have the best opera orchestra in Spain and it is no question as to why. With Lorin Maazel, Roberto Abbado and Fabio Biondi having served as its musical directors, the Palau witnessed a movement in its musical direction welcoming performers such as Christopher Ventris, Vittorio Grigolo, Maria Guleghina, Cristina Gallardo-Domâs and Plácido Domingo. The Palau strives to be both a public performing arts center and the musical paradise for everyone. Its goal is to foster a wide and diverse audience by introducing a manifold musical program as well as offering affordable ticket prices.
This whimsical futuristic hub for arts is closely associated with the name of Placido Domingo, the legendary opera singer and composer. Since the founding of the Palau, Plácido Domingo has maintained an especially strong relationship with the venue. Besides giving regular performances every season, he undertook two prominent initiatives there, i.e. the annual Operalia competition for young opera singers in 2007 and the establishment of the Centre de Perfeccionament, that offers high-level vocational training for singers and musicians.
Book Tickets
Palau de les Arts
Discover the full program at Opera Valencia
Recommended Posts
09 Feb 2017
13 Nov 2016